The new version 1.8.0 of PDF-Mapper is now available for download! Our PDF-Mapper customers receive the new version automatically after publication.
The latest update of the PDF-Mapper offers more PDF document types, revised mapping functions and new possibilities through plugins – as well as some other small adjustments. In this article, we provide a brief overview of the three most important new features:
1. Document Types with Their Own, Separate Data Structure
The PDF-Mapper has long been used not only for purchase orders and invoices, but also for other PDF document types. The following PDF document types therefore get their own data structures with version 1.8.0:
Request for quotation (M_REQOTE),
Offer/quotation (M_QUOTES),
Purchase order (M_ORDERS),
Order response/order confirmation (M_ORDRSP),
Despatch advice/delivery bill (M_DESADV),
Invoice/credit note (M_INVOIC) and
Payment advice (M_RECADV).
A selection and thus restriction of the used document types is of course possible, e.g. to only process purchase orders. In addition, further PDF document types can be defined and added.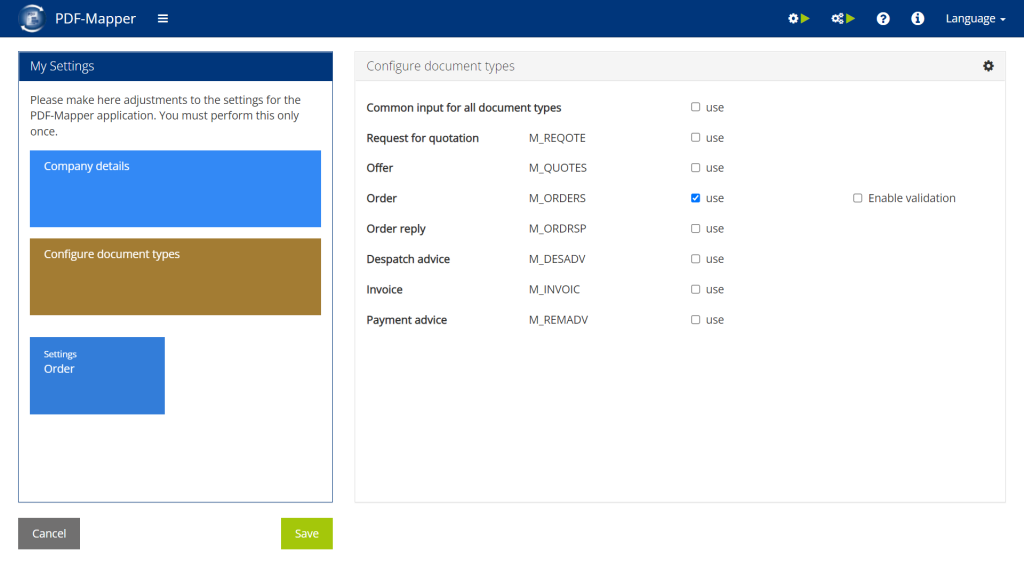 2. Revised Field Mapping
The available fields for mapping can now be enabled or disabled. For example, unused data elements can be removed to simplify the use of field mapping. The setting can be made by the administrator in the PDF-Mapper configuration for each document type.
In addition, the existing document types Purchase Order (M_ORDERS) and Invoice (M_INVOIC) have been extended by further fields.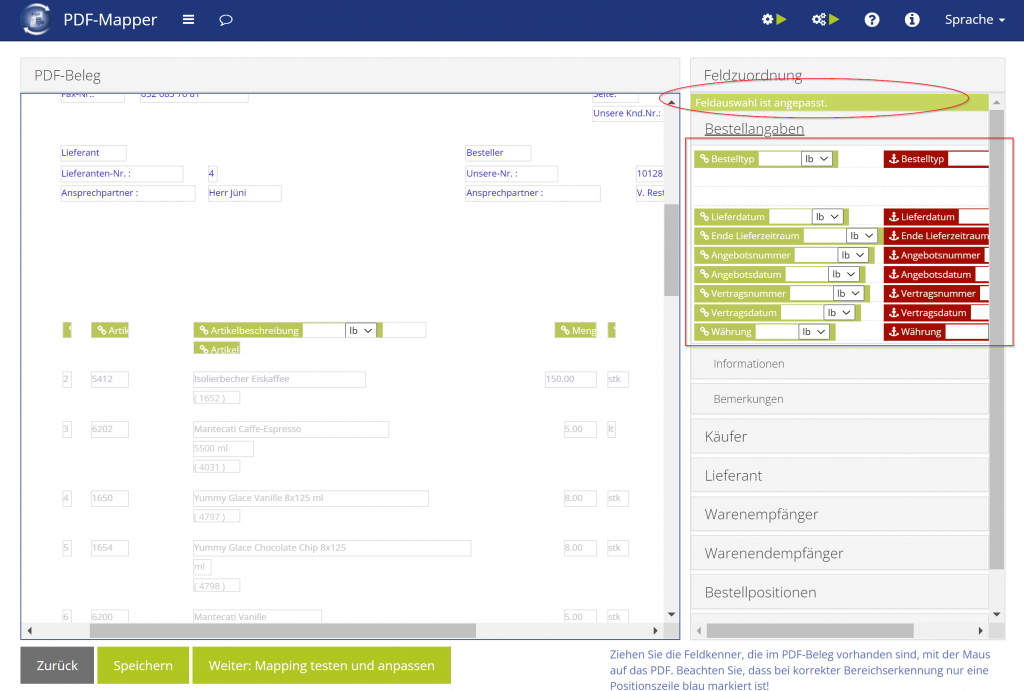 3. Extension of the PDF-Mapper through Plugins
The new PDF Mapper version 1.8.0 offers the possibility to extend its functionality with plugins.
Plugins – Possible applications
With the plugin mechanism, the PDF-Mapper offers a possibility to extend its standard functionality. Templates are available for the following application areas.
Erweiterte Eingangs- und Ausgangskanäle

Dateirouting, z.B. nach Dateityp
Datenvor-/nachverarbeitung, z.B. Umbenennung von Dateien oder Archivübergabe
Anbindung weiterer E-Mail-Postfächer
Anbindung von (S)FTP-Servern
Anbindung und Bereitstellung von HTTP(S)-Web-Services

Zeitgesteuerte Funktionen, z.B. Aktualisierung von Artikeldaten oder Backuperstellung
Ausführen von separaten Programmen, z.B. Umwandlung von PDF-Formularen in normale PDF-Dokumente oder Aufruf von cmd.
Extended input and output channels

File routing, e.g. by file type

Data pre/post processing, e.g. renaming of files or transfering to archive

Connection of additional e-mail mailboxes

Connection of (S)FTP servers

Connection and provision of HTTP(S) web services

Time-controlled functions, e.g. updating of article data or creating backups
Execution of separate programs, e.g. conversion of PDF forms into normal PDF documents or execution of cmd.
Please note: This functionality should only be configured by an IT employee!
Plugins – Integration into the PDF Mapper System Architecture
With the new PDF-Mapper version 1.8.0, plug-ins can optionally be configured for pre- or post-processing or connection of additional input/output channels. For this purpose, input and output plugins have been integrated into the system architecture (see graphic below).
The PDF-Mapper is a Java application with a browser-based user interface and is designed as a background processing tool. The PDF-Mapper can be started and stopped via start menu entries or started directly as a service. The application consists of three modules:
The PDF-Mapper Server is the central instance for controlling the entire application. It starts the Mapping Components and the Background Processing. Operation – which includes, for example, configuration or the creation of PDF mappings – is performed via an HTML5-capable web browser.
The Mapping Components control the Background Processing, which fully automatically fetches PDF documents from an e-mail inbox or from a file directory, converts them into structured data and stores them in a data directory for output data.
The PDF-Mapper Server can be installed on server hardware or in a virtualized environment and can be operated via the web browser from workstation PCs. Optionally, web access can also be secured via a user password configuration.
Do you have questions about the new PDF-Mapper version? Feel free to contact our friendly sales team.