Smartly Convert PDF Documents to Excel
The Perfect Introduction to Automatic PDF Document Processing:
Smartly Convert PDFs to XLS
Use our PDF mapping technology to convert your PDF orders and invoices to Excel in a smartly structured and automatic way.
Free Online Converter
All features of PDF-Mapper Starter are online and available for free. Click "Start Now" to get started immediately and upload your first PDF document.
XLS-Download
You can download the structured PDF data in a Microsoft Excel workbook and use it for your further processes.
More than just a PDF to Excel Converter
It is often not easy to continue working with the results of normal PDF to Excel converters. Convert PDFs so that the data is in individual fields and grouped into meaningful tables.
Automate Order and Invoice Entry
PDF-Mapper Starter saves individual conversion settings for each sender of your PDF documents. All documents of a sender can thus be automatically converted to Excel in a useful way.
Unlock More Features at Any Time
If you want to capture and process your PDF data 100% automatically
and import them into the ERP system, try PDF-Mapper Business / Enterprise for free at any time.
Compare Results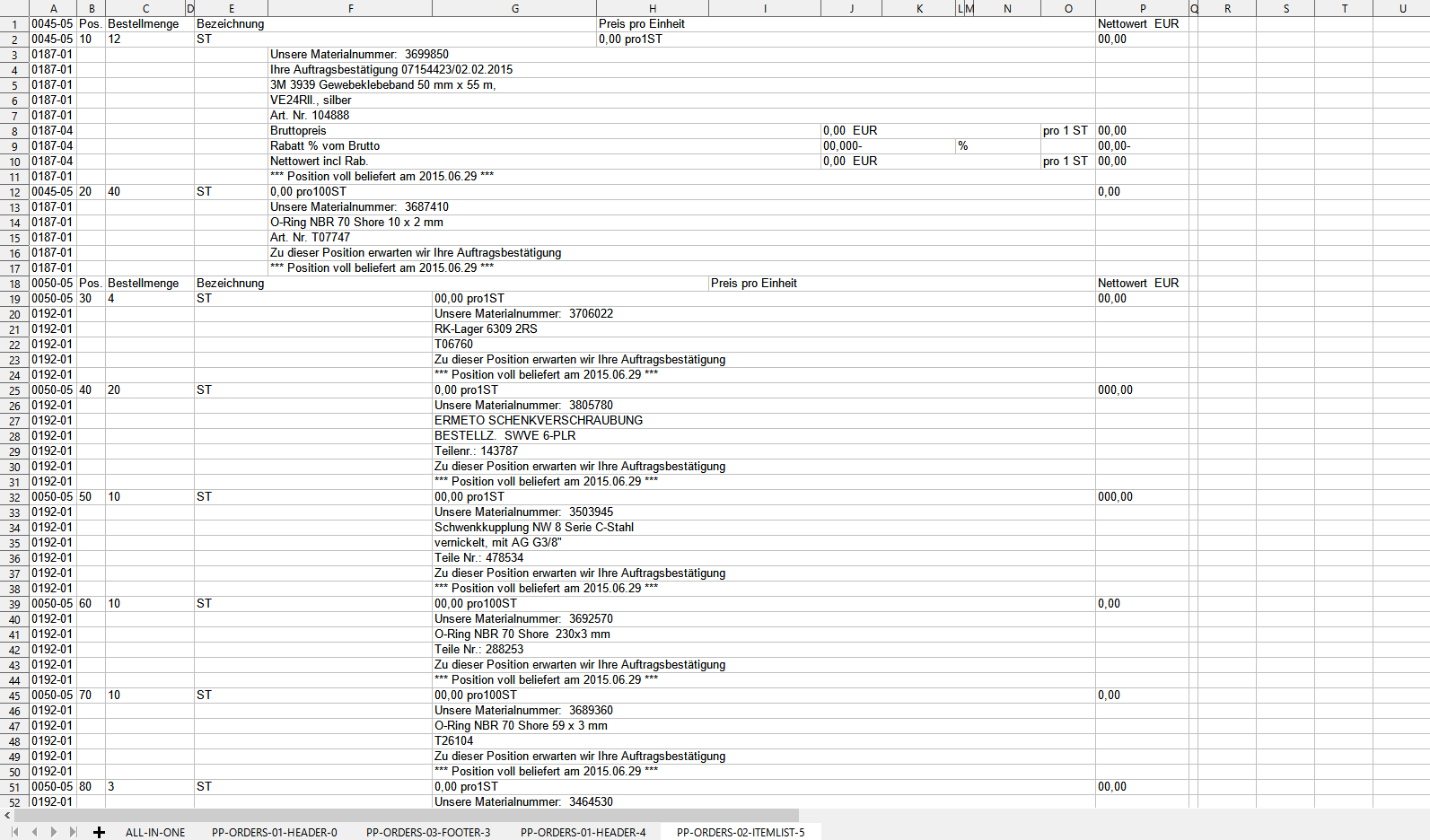 Conversion to Excel with PDF-Mapper Starter: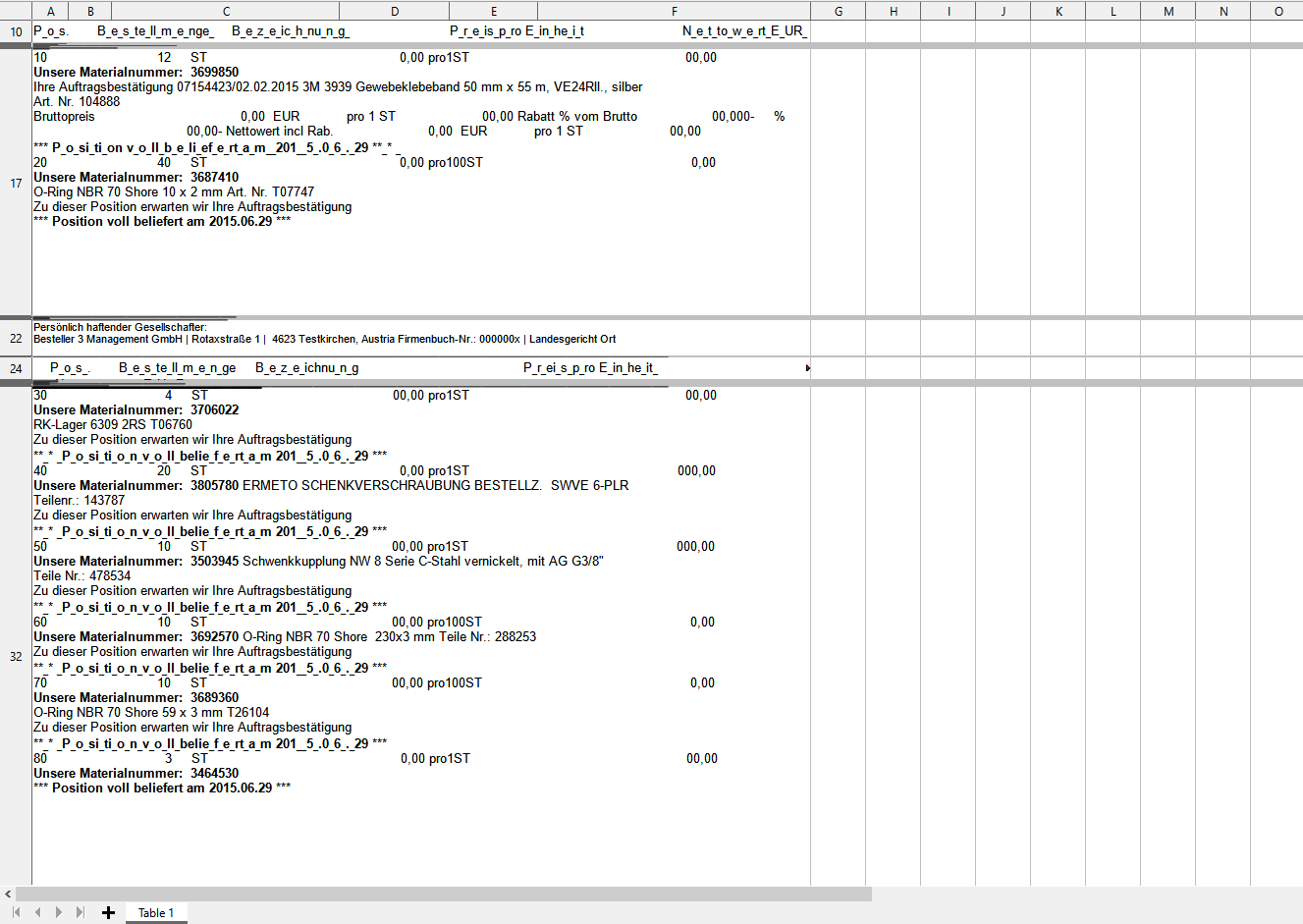 Conversion to Excel with Ordinary PDF to Excel Converter: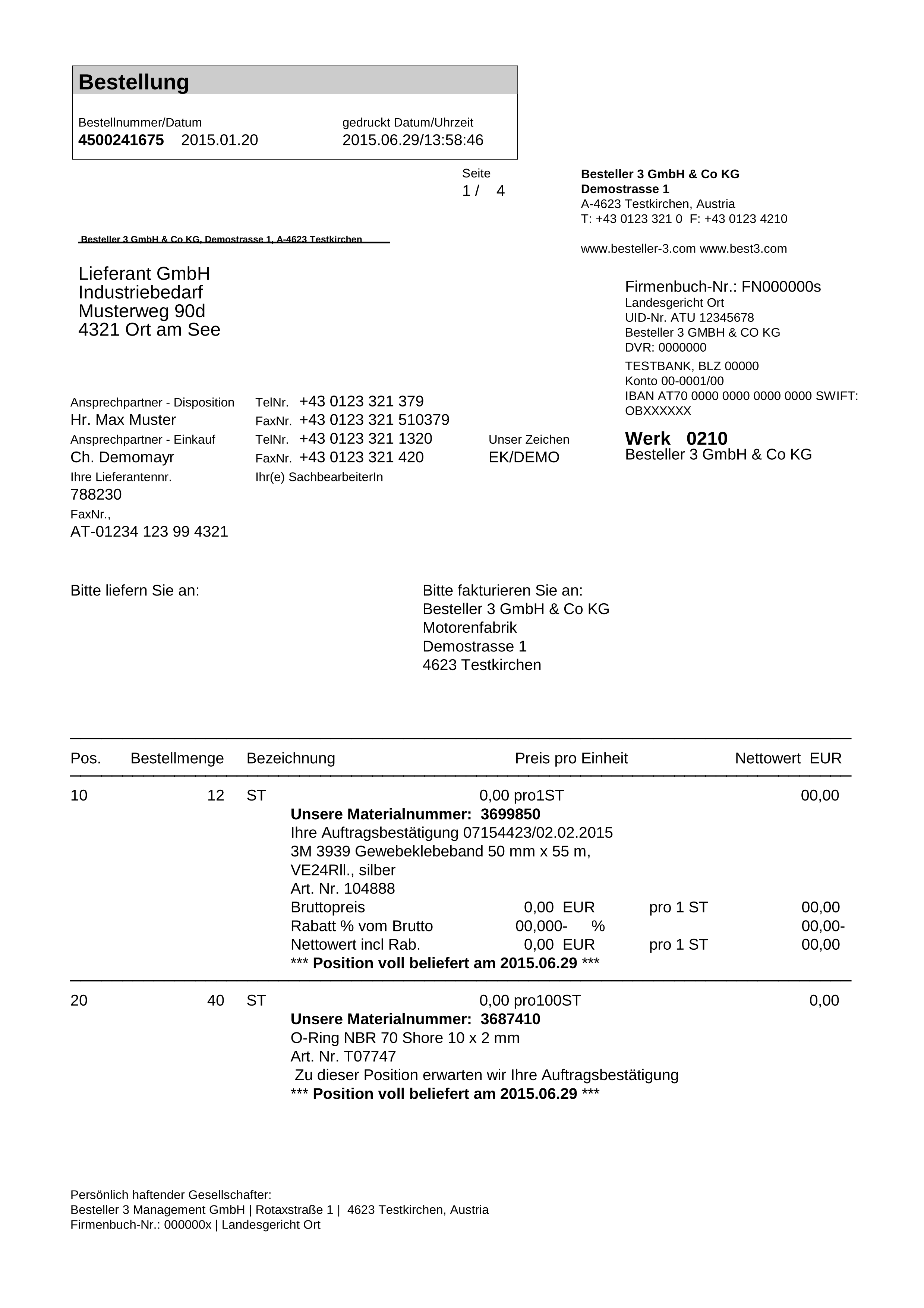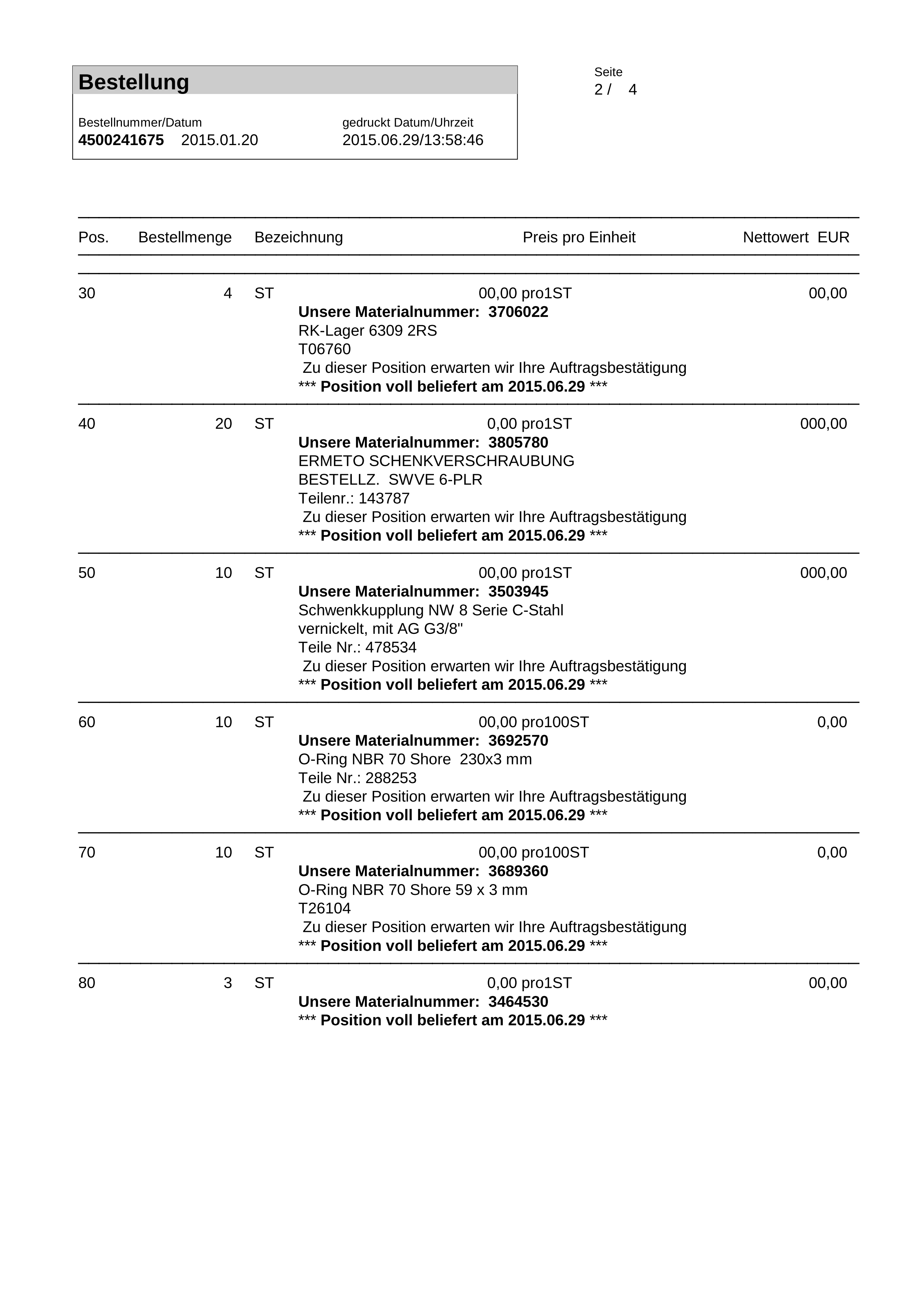 Original PDF Document: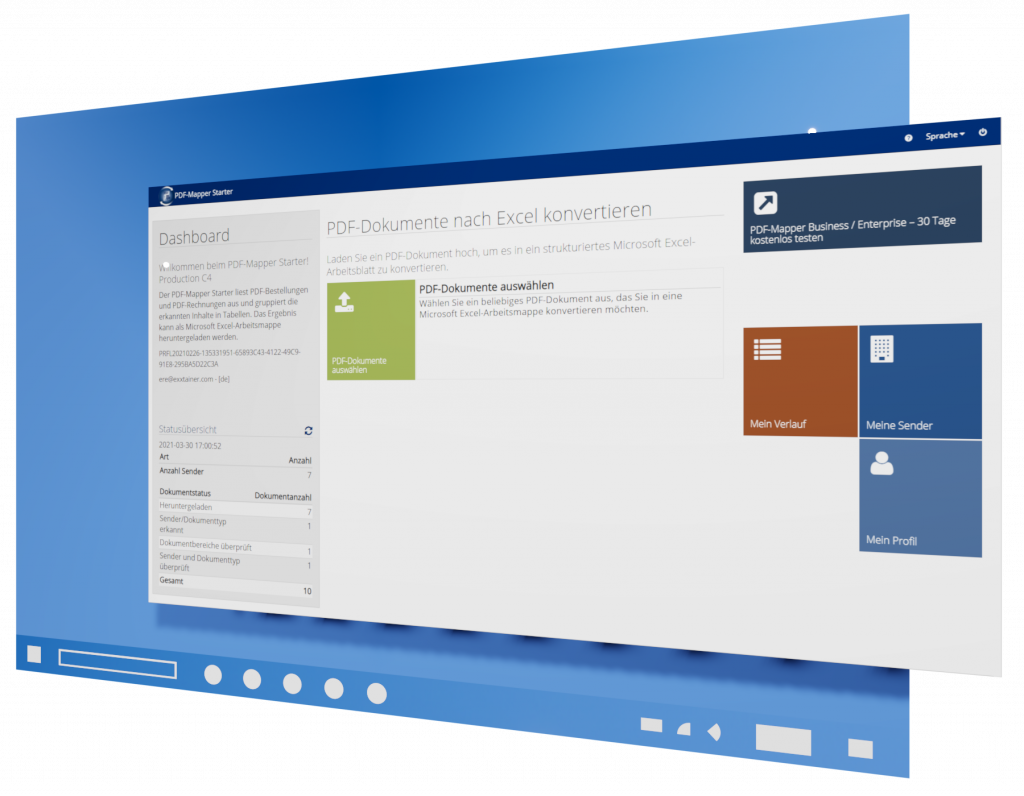 How to Convert a PDF to Excel in a Useful Way:
Follow these simple steps to convert a PDF document to Microsoft Excel in a useful way:
Click on "Start now" above and register with your email and a password.
Log in and upload a PDF document that you want to convert to Excel.
Check the automatic identification of the document type, sender and the document areas.
Save the conversion settings for the sender to skip step 3 for any further documents of this sender in the future.
Download the Excel workbook with the structured PDF data.
Frequently Asked Questions about PDF-Mapper Starter:
How do I get the data from PDF documents directly into my ERP system?

Upgrade to PDF Mapper Business / Enterprise. With the software you can fully automate your PDF document processing:

For more information, visit www.pdfmapper.com.
Is all data from the PDF document transferred to the Excel spreadsheets?

Der PDF-Mapper Starter übernimmt jedes Textfeld, das digital auslesbar ist, in die Excel-Tabellen. PDF-Dokumente sind digital auslesbar, wenn Sie von einem Computer generiert wurden oder eingescannt und dann mit OCR-Texterkennung digital lesbar gemacht werden. Wenn Sie sich nicht sicher sind, ob Ihre PDF-Dokumente digital auslesbar sind, können Sie das mit unserem Online-PDF-Check überprüfen.

PDF-Mapper Starter transfers any text field that is digitally readable into the Excel spreadsheets. PDF documents are digitally readable if they were generated by a computer or scanned and then made digitally readable with OCR text recognition. If you are not sure whether your PDF documents are digitally readable, you can use our Online PDF Check to find out.
To which file format are the PDF documents converted?

The PDF documents are converted to XLS files.
How can I open the converted Excel workbook?

You can open the converted XLS file with any spreadsheet program such as Microsoft Excel, OpenOffice, or LibreOffice.