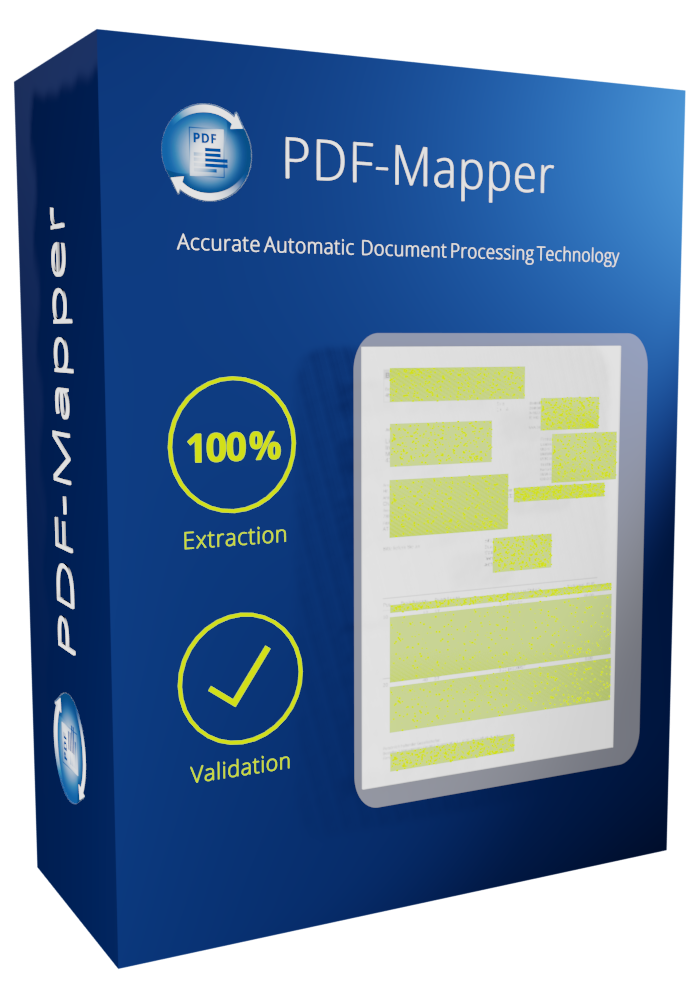 Automate All Your PDF Document Processing with 100% Accuracy
PDF-Mapper Starter is just the beginning on the way to automatic data capture. Upgrade to PDF-Mapper Business / Enterprise to fully automate your PDF document processing! Experience how your PDF business documents arrive by e-mail and are picked up, captured, prepared, validated and the data imported into your ERP system 100% automatically by PDF-Mapper.
Upgrade now to PDF-Mapper Business / Enterprise:
No More Manual Data Entry. Let the PDF-Mapper Do the Work for You!
All PDF Business Documents
Whether it's an order, invoice, delivery note, order confirmation, price agreement or payment advice – never type PDF documents manually again!
100% Automation
Capture incoming PDF documents 100% automatically while you handle more important tasks.
ERP Integration
The data from the PDF documents is automatically transferred to your ERP system via your interface. We can generate any data format you need.
Automatic Input
Your PDF documents arrive and are automatically picked up by the PDF-Mapper – either directly from an email inbox or from an import folder.
Automatic Partner Identification
PDF-Mapper automatically recognizes who the sender is – and assigns the PDF documents appropriately so that the data ends up with the right partner in your ERP.
Automatic Data Extraction with 100% Accuracy
Just like EDI, you can achieve 100% accuracy in your data processing with PDF-Mapper. Automatically and reliably detect where which data is on the PDF document.
Automatic Data Preparation
You don't want the data as it appears on the PDF? Adjust the data or even add more master data.
Automatic Validation
Ensure that only correct and complete data is transferred to your ERP system. The automatic validation notifies you in case of discrepancies.
Data Security as On Premise Solution
PDF-Mapper Business / Enterprise is installed locally at your site. Your data remains safely in your hands.
Fast Implementation
The setup is a bit more complex than with PDF-Mapper Starter, but takes place in a similar process with simple mapping tools in the browser. You do not need any programming knowledge.
Regular Updates
PDF-Mapper Business / Enterprise is subject to continuous advancement. Our goal is that you can minimize your data capture more and more.
Support
Feel free to contact our sales department with any questions regarding the implementation and setup of PDF-Mapper Business / Enterprise.
It Is Easy to Get Started. Try It for Free!
You can easily try out PDF-Mapper completely free. We guide you along the way.